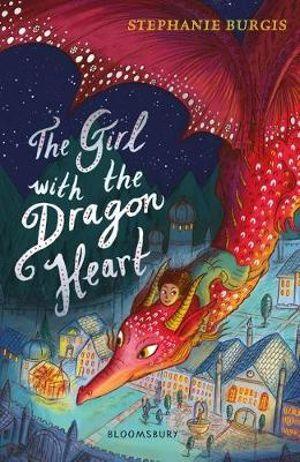 Stephanie Burgis, The Girl with the Dragon Heart, Bloomsbury Publishing, August 2018, 240 pp., RRP $14.99 (pbk), ISBN 9781408880777
Silke has a gift for words – for talking herself out of trouble. Or into it.  And now she's in big trouble. She has one chance to save her lost parents from the fairies who stole them away. One chance to finally find a place to call home.  But will her words fail her when it counts the most?
The Girl With the Dragon Heart is an adventure story for anyone who loves fairy tales.  You name it, this book has got it – castles, dragons, elves, magic, adventure, intrigue… all the makings of a fantastic series.  The story centres around Silke, a 13 year-old girl with a flair for the dramatic and a gift for language, both written and spoken.  She is an orphan and a refugee, come to the city of Drachenburg with her brother to try and make a new life for herself.  She works in a famous chocolate shop but she can't seem to keep her nose out of trouble… in fact trouble seems to come looking for her.
We warm to Silke instantly, as we sympathise with her intense desire to be in charge of her own destiny – the writer of her own story.  The book is written in the first person from SIlke's point of view, which allows us to experience her journey on a personal level.  As the story progresses and the character develops, we grow and learn with Silke, as she realises the need for patience, trust, self-control and honesty.  Silke's personal character arc throughout the book is essentially the story of the child questing to prove their readiness for the path to adulthood.
The book is very entertainingly written and never lacks energy.  Burgis's colourful descriptions make the city of Drachenburg come to life, while the illustrations by Freya Hartas provide an eye-catching addition to the chapter headers throughout the book.
The Girl With the Dragon Heart will appeal to young readers in their early teens (say 12-14 years), as I'm sure will the other books in the series yet to come.
Reviewed by Christian Price