Lynette Noni, The Gilded Cage (The Prison Healer, #2), Penguin, September 2021, 448 pp., RRP $24.99 (pbk), ISBN 9781760897536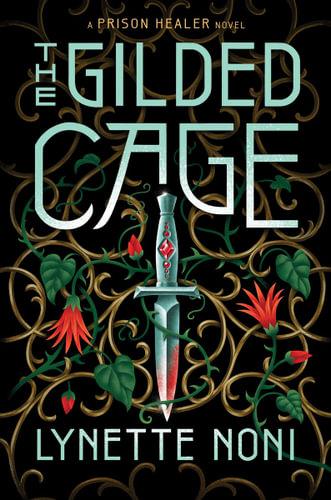 The Gilded Cage is the second book in Australian author Lynette Noni's trilogy, The Prison Healer. I strongly recommend reading the first book, The Prison Healer, before attempting this sequel.
We are introduced to our heroine, Kiva Meridan in The Prison Healer, and come to admire her as a strong and resourceful young woman. In the words of the blurb, 'she is a survivor'.
In this sequel, Kiva seems to have lost a lot of that strength. She is no longer an independent young woman, forging her own path. She is very, very distracted by her attraction to Prince Jaren Vallentis. This is extremely awkward, as her family has sworn to destroy the Vallentis family. Her reunion with her sister Zuleeka and brother Torell was not the warm and fuzzy experience she was expecting. Zuleeka in particular has become a brutal leader of the rebels, determined to claim the throne from the Vallentis family, no matter who gets hurt (or killed) along the way. Zuleeka has major issues!
Kiva spends a lot of time swooning over Jaren and trying to decide whether to help the rebel forces led by her siblings (a cause that helped keep her alive for ten years in prison) or give into her heart (and hormones) and support Jaren and his family. Without her permission, these people had worked their way into her heart, forcing her to see them not as royals and guards, but as human beings. As a family. I really wanted her to make up her mind and just get on with it!
Second books are renowned for being tricky – the first book introduces all the elements of the story, and the second book can feel a little flat in comparison. The Gilded Cage is definitely a more subdued read than the first book, spending more time exploring character development and the political backstory.
However, just as I was giving up all hope of some real action, the story takes off at a cracking pace, and I found myself tearing through to the end – which has, of course, another 'big reveal', followed by a cliff-hanger!
I'm sure young adult readers of The Prison Healer will inhale The Gilded Cage and get caught-up in the slow-burn attraction between Kiva and Jaren. According to the publisher's website, they will have to wait until May 2022 for book 3, The Blood Traitor.
Reviewed by Gaby Meares