David McKee, Elmer and the Bedtime Story, Walker Books Australia, September 2021, 32 pp., RRP $29.99 (hbk), ISBN 9781839130946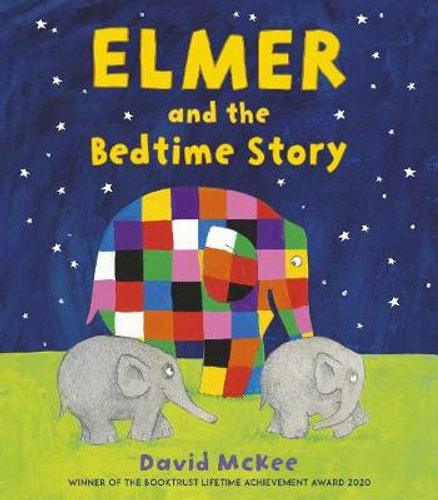 Elmer is the distinctive patchwork coloured elephant created by David McKee that has been featuring in children's picture books since 1989. David has written and illustrated over 30 'Elmer' books, and in 2020 won the 'Booktrust Lifetime Achievement' Award.
For fans of Elmer books, Elmer and the Bedtime Story will not disappoint; with McKee's iconic figure of Elmer amongst bright, lively and playful landscapes, each turn of the page exudes a joyful energy. The illustrations themselves have a simple childlike appeal but for me it is the imaginative use of colour that really makes the pictures pop.
The story is a simple one; Elmer is placed in charge of two young elephant calves and his strategy is to take them for a long walk to tire them out. Along the way he meets other jungle creatures who offer bedtime story suggestions. But at the end of a long walk does Elmer even need to use these stories to put the young elephants to sleep?
A fun and simple story suitable for children aged 3-5 years, that is sure to please Elmer readers or garner new fans to the highly successful brand.
Reviewed by Julie Bertola