Ruta Sepetys, The Fountains of Silence, Penguin Books Ltd., 512 pp., October 2019, RRP $24.99, (pbk), ISBN 9780241422236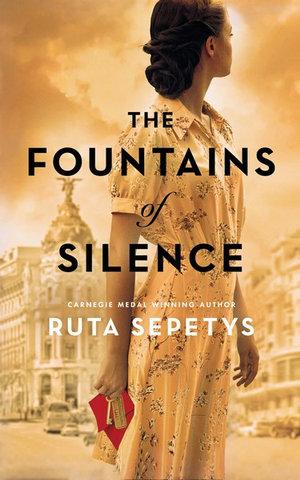 There are layers upon layers of secrets, and in fascist Spain after the Civil War, with Guardia Civil on every street corner and no way to know who is watching who, secrets and questions can be very dangerous things. Daniel is a budding photojournalist and the son of a wealthy Texan oil baron, visiting Spain with his family. Ana works as a maid at the Hilton in Madrid, and she has more than her own share of secrets. As they come in to contact more and more, the interest that sparks between them begins to unravel the secrets of both their families and threatens to expose a dark secret at the very highest level.
The Fountains of Silence is a deeply layered historical novel set in 1957 during General Franco's fascist rule of Spain. It walks a line between the larger historical perspective of suppression, religious constriction, and silence, and the more intimate details of families and individuals. At its heart, the novel focuses on a part of Spanish history that I was unaware of; one of the documents that Sepetys quotes in the end-chapter notes alleges that somewhere around 300,000 babies were stolen from their mothers and sold into adoption during Franco's rule. Daniel's chance photo of a fearful nun carrying a dead baby is the first uneasy breadcrumb in the trail that leads through this darkest secret. The many facets of this practise are reflected in the families of both Daniel and Ana, and Sepetys touches with great sensitivity on the impact of forced adoption. Reading about this part of Spanish history also brought to my mind our own dark history of the Stolen Generation, and in a classroom setting this would be an obvious point of discussion to follow.
There is a charm in the developing love story between Daniel and Ana, and Sepetys uses them to bring together two viewpoints that are otherwise antithetical. Daniel is observant, with a 'good eye for angles' in photography, but Ana makes the point early on that Daniel cannot understand what he sees without context. As they come to help each other, Ana provides the taglines for his photos that give them a context. This also makes them infinitely more dangerous.
In the sidelines of Ana and Daniel's story, we also see the brutal and beautiful world of bullfighting, both metaphor for and escape from the ugly suppression of daily life in Madrid. Ana's cousin, Puri, also offers a glimpse of the pious world of the convents and orphanages, but her own questioning nature is another window into trouble.
Through it all, Daniel and his family's wealthy privileged friends are unable to see or understand the depth of the poverty and restrictions around them. The wine that they spill is worth a months' wages to the employees who bring them their towels; rules dictating acceptable music or modest dress are waived at their whim. Sepetys creates a striking sense of the divide between the worlds throughout the novel.
The novel is written in present tense, giving it a certain immediacy, and it is presented in short chapters interspersed with quotes from primary sources and historical analyses which keep the narrative from becoming cloying or overwhelming. The Fountains of Silence would be an excellent bridge into adult historical fiction for readers aged 15 and up who are interested in works like The Diary of Anne Frank, or I Am David, and are looking for something engaging and thought-provoking to sink their teeth into.
Reviewed by Emily Clarke