Helen Milroy, The Emu Who Ran Through the Sky, (Tales from the Bush Mob #2), Magabala Books, April 2021, 64 pp., RRP $22.99 (pbk), ISBN 9781925936018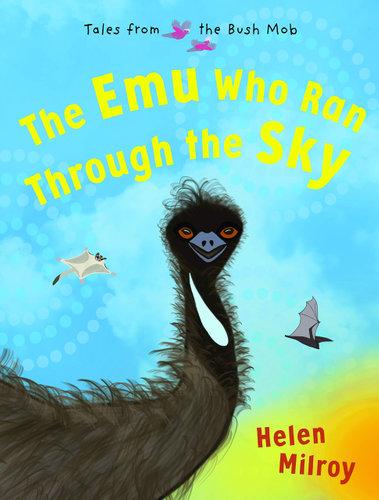 The Emu Who Ran Through the Sky is the second book in the Tales from the Bush Mob picture book series, published by Magabala Books, a specialist in indigenous Australian children's literature. The creator of the series, Helen Milroy, is a highly regarded indigenous doctor with expertise in Aboriginal and child mental health. Her aim for the series is to help children build resilience through indigenous storytelling.
The story follows Lofty, a young emu, who enters the big emu race, despite his worries about his clumsiness. The race ends in humiliation and rejection for Lofty who trips over and ruins the race for all the emus as they fall over him. Nonetheless, Lofty perseveres with practising for the next race. Then Lofty befriends Eagle and together with the other Bush Mob animals, they work out a unique solution to Lofty's problem. And so, without being didactic, the story teaches some highly relatable lessons about perseverance in the face of adversity, kindness to others, and the value of co-operative problem solving.
The story is engaging with an interesting and unexpected ending. But I wondered if the text could have been shorter and the story resolution revealed with more surprise.
I love the strong indigenous feel of the bold illustrations with deep brown and tan earthy colours for the land, bright blues for the sky, and feint, almost hidden, dot patterns. Illustrations of the animals in their natural colours are clear, bold and depict realistic body features.
With quite long text and complex themes, I recommend this picture book for readers in the early years of primary school, rather than for pre-schoolers.
Reviewed by Barbara Swartz