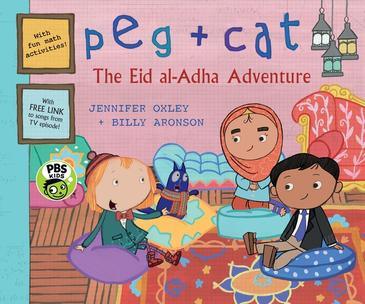 Jennifer Oxley and Billy Aronson, The Eid al-Adha Adventure (Peg + Cat), Walker Books Australia, 1 June 2018, 32pp., $19.99 (hbk), ISBN: 9780763699321
Peg and Cat are visiting their friends Yasmina and Amir during the annual holiday Eid al-Adha. It's Peg and Cat's first Eid al-Adha celebration, and they soon discover it's lots of fun, with singing and dancing, delicious food and great presents. But as Peg and Cat learn, the most important part of the day is about giving 'more' to those who have 'less'.
The children work together to create a delicious feast of almonds, olives, apricots, honey cakes and meatballs, which they then deliver to the local soup kitchen. At the soup kitchen, the children learn that the man who lives across the street will miss out on the feast because the door to his building has been blocked by crates.
But as Peg says, 'Today's about giving. We're going to give! We'll cross the yard with the meatballs!" So the children work together to move the crates so they can deliver the meal to the surprised and delighted gentleman.
This vibrant story is a fun and joyous celebration of the Eid al-Adha holiday, and is laced with themes of friendship, teamwork, problem-solving and the spirit of giving to others. There's also an educational element woven through the story, as the children use mathematics to help them evenly divide up the food and move the crates, so this book doubles as a wonderful numbers game.
The illustrations are rich and striking, dripping in beautiful jewel-tones that complement the celebratory theme of the story.
Reviewed by Melinda Allan