Nova

Weetman

,

The Edge of Thirteen

, University of Queensland Press, March 2021, 256 pp., RRP $16.99 (

pbk

), ISBN 9780702263125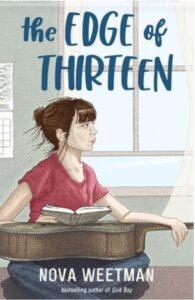 As the title suggests, The Edge of Thirteen, explores all the messy feelings and changes that occur with puberty. 
It's the third book featuring main character Clem Timmins, following the award-winning The Secrets We Keep and The Secrets We Share. And while fans will enjoy spending more time with Clem, the book also works as a stand-alone for readers unfamiliar with the previous titles. 
In this book, Clem's in Year 8 and she's struggling with being a 'late bloomer'. She's also at odds with her best friend Bridge who's become increasingly annoying. This idea of figuring out who your friends are, where you fit and how you want to be in the world is one that is explored beautifully through the story's main event, school camp. Clem and her friends are also now pre-occupied with boys and all the messiness and misunderstandings that entails.    
Meanwhile, back at home, Weetman deftly captures the tussle between Clem's desire to be treated as a grown-up while still expecting to have her school lunches made for her. She also explores Clem's battles with her mum over mobile phone use and social media.  
I really like that this book featured a young teenager. It's a perfect addition to the limited options for readers who are straddling middle grade and YA. 
Reviewed by Heather Gallagher