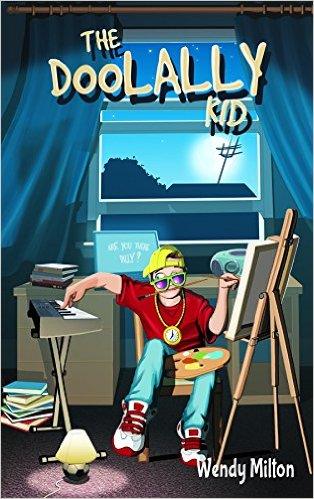 Wendy Milton, The Doolally Kid (2nd edition), PawPrint Publishing,  18 Jan 2015,  218pp.,  $14.95 (pbk), ISBN 9780992534042
From seances to cemeteries and art robbers to rappers, The Doolally Kid takes readers on a whirlwind adventure with twists and turns that will surprise and delight.
Billy O'Connor is a quiet, gangly eleven-year-old who hasn't figured out what he's good at. Not to say he hasn't tried. Thanks to his mother's extravagant gift giving, Billy has dabbled in just about everything to no avail. One thing he does know is that his aunt is a bit crazy and he's not looking forward to staying with her while his mum is off starring in a play.
But soon enough, thanks to his aunt's otherworldly aquaintances, Billy is visited by spirit guides who give him talents he never dreamed of. First, he becomes an accomplished painter, then musician and finally a rapper with killer dance moves. Popularity and fame follow and quickly Billy goes from a nobody to the coolest kid at Figtree Primary. The only problem is that Billy can't always turn off the act when these spirits come for a visit. And one of them has a shady past. When his new found gifts get him caught up with the wrong crowd and accused of forgery, Billy turns to the only people who he can trust…and they aren't who you'd think.
With a unique cast of characters, a spooky premise and a mystery that stretches beyond the grave, this book is an action packed adventure for upper primary readers. The antics of lovable Aunt Addie add lots of humour and Billy subtly learns some important lessons in this fun, original story.
Reviewed by Stephanie Ward