Michelle Vasiliu (text) and  Gwynneth Jones (illustrator),  Together Things, EK Books, February 2020, 32 pp., RRP $24.99 (hbk), ISBN 9781925820294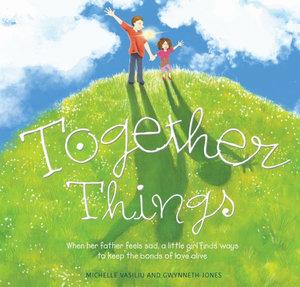 The experience of mental health issues such as depression is a topic frequently avoided in books for the very young; often regarded as confusing and difficult for kids to understand. But in this latest collaboration between Michelle Vasiliu and Gwynneth Jones the reader is gently drawn into the struggles of a young girl as she comes to terms with her dad's illness.
Jones' beautiful images and Vasiliu's careful, minimal text draw the reader into the young protagonist's plight as she reflects on the adventures she once shared with her father and her gradual coming to terms with his illness: at the moment he can't fly high on the swings in the playground or body surfing at the beach or go on adventures and discover the wonders of the natural world but he can do other things. She learns it is okay to be confused and angry about what is happening to her dad; finally getting to a stage where she can accept that their 'together things' will be different for a while.
In a society where one in five adults will experience mental health issues during their lifetime increasing community awareness of illnesses such as depression and reducing stigma around this sensitive topic is a positive step and where better to start than the very young.
Great for home or school library. Suitable for ages 5 – 8 years
Reviewed by Mem Capp