Sophie Gonzales, Only Mostly Devastated, Hachette Australia, March 2020, 368 pp., RRP $17.99 (pbk), ISBN 9781444956481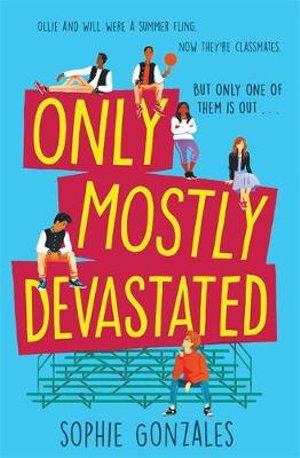 Only Mostly Devastated is a full-on story of teen angst and humour, covering a wide range of intersecting topics, and an ensemble cast of friends, frenemies and family. But the real secret of its success is the voice of Oliver, who tells his story so authentically.
Over the summer before his final year of school, Ollie meets Will. A mutual attraction leads to a friendship and romance, although both know Ollie will be returning to the other side of the country after the holidays. The details of this summer relationship are gradually revealed. Meanwhile things change quickly. Ollie finds out that he and his parents are not returning to California, but staying in North Carolina to support his Aunt Linda, who has cancer. Will seems to have dropped off the grid, so may not know that Ollie is staying, or may be ignoring him. Ollie won't be seeing his friends back home, or finishing school with them. But Oliver is very close to his aunt, uncle and two little cousins, who need his family's help.
Falling on his feet on his first day at school bodes well, until Ollie discovers that Will is also a student there, a popular basketball hero and, most importantly, anything but out and proud. His new friends, Juliette, Niamh and Lara, accept Ollie without question and keep mum when he reveals his summer adventures before realising they know Will. They all have their own worries, and the novel fills out each story, resulting in a pleasing depth of characterisation. The same is true for Ollie's family members, including the young children.
Sophie Gonzales is a young Australian author who wants a wide audience for her YA debut, and to that end has written an America story, inspired by the 70s musical Grease. She has managed the American setting with aplomb, after spending time there for practical research, and chasing down all the context required to get things right. She has also succeeded in blending a mesh of coming of age issues, included sexuality diverse characters amongst an ensemble of well-drawn friends and family, and drawn all this together with the vulnerable, strong, self-conscious and ultimately wise voice of Oliver, who can cry, laugh at himself, protect his friends, and finally find empathy for Will.
Some intimate relationships are included in this story, but details are kept discrete, leaving characters their privacy, and readers to their imagination. Illness, death and grieving are important aspects of the story and are sensitively and wisely treated, presumably aided by the author's day job as a psychologist.
Interview with Sophie Gonzales
Reviewed by Marita Thompson