Bob Graham, The Concrete Garden, Walker Books Australia, August 2023, RRP $27.99 (hbk), ISBN 9781529512649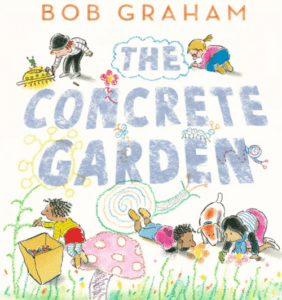 The Concrete Garden tells a heartwarming and hopeful story about community, creativity and finding joy after a difficult time. It is written and illustrated by Bob Graham who is a doyen of Australian children's literature, having won multiple awards over many years.
In this book Graham masterfully tells a heartening and emotional story through pictures and careful choice of words, including some impressive original metaphors.
The first double spread page is dominated by an image of a huge, bleak, grey block of apartments and the setting is end of COVID lockdown, with adults wearing face masks, and children running out – After a cold, hard winter, doors opened. One child has brought a box of pavement chalk and as she starts drawing, others join in until the concrete is transformed into a brightly coloured montage, which is heartening for the residents, including one who is homesick for her family far away.
I was mostly impressed with how this short story evokes strong emotions – sadness, a touch of humour, joy, hopefulness, and enthusiasm. Graham's clear, cartoon style drawings expertly use colour to convey the mood of the story with the greyness of the cityscape conjuring a forlorn and alienating feeling whilst bright colours of the drawings transform the bleak apartment block with the energy, liveliness, and joy of the children's creativity. Perspective is also cleverly used with initial views of the apartment block from the ground upwards to emphasise its immensity and later images focusing more on the vitality of the drawings and the occupants.
I also love Graham's respectful, subtle representations of cultural diversity and how the title "The Concrete Garden" references the urban concrete jungle context.
I highly recommend this book for 3-6 year olds and the adults who read to them, especially if they can relate to the pleasures of concrete chalk art.
Reviewed by Barbara Swartz