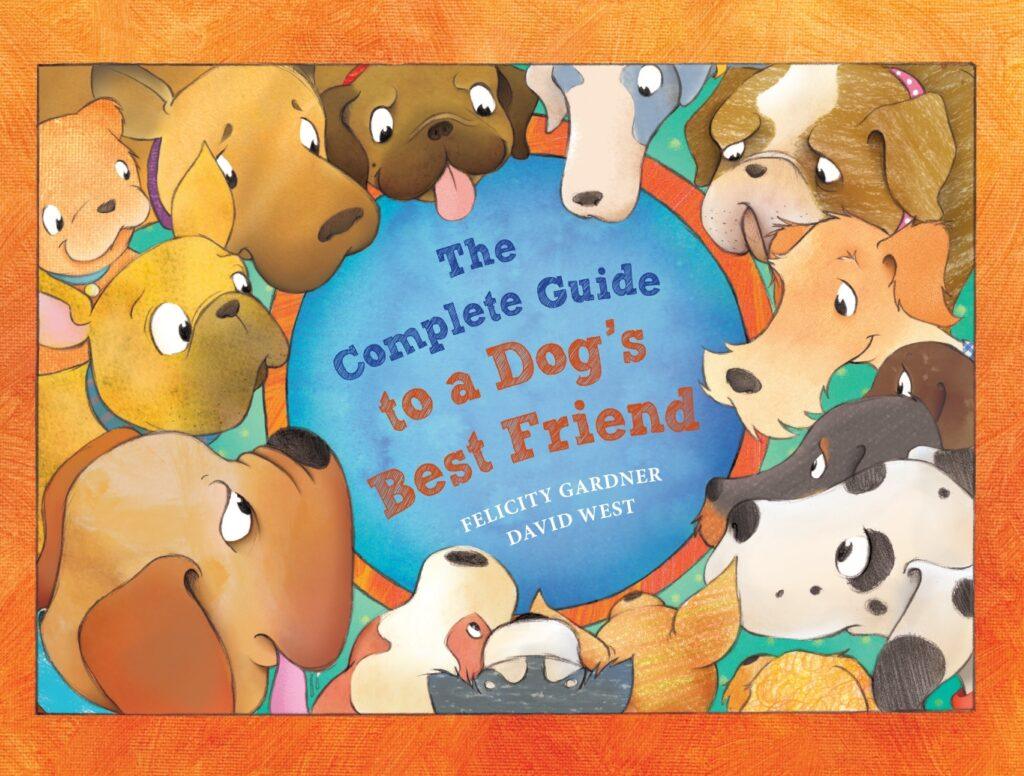 David West and Felicity Gardner (text),  Felicity Gardner (illustrations),  The Complete Guide to a Dog's Best Friend,  Hachette, 24 February 2015, $14.99 (pbk), 24pp.,  ISBN 9780734415417
With a circle of dogs faces around the title on the front page, to the outline of dogs faces on the end papers, there can be no doubt about the importance of dogs to both the author and illustrator of this book. The characters of all the dogs shine through and the variety of expressions achieved in the illustrations is wonderful.
Clues for the storyline begin upon opening the book, with a friendly dog on the initial page succeeded by a scene of a family walking into an "Adopt Today" building on the imprint page. The title page shows a small child hugging a huge cheerful looking mastiff type dog. Told by an older dog, shown surrounded by eager puppies, the role reversal adds to the humour of the book, where the human is the Best Friend and the dog has the job of looking after the human in order to be a good pet. We see various breeds of dogs working hard to please their owners including waking them up (the clock shows 4.00am), taking out the rubbish (by pulling it out of the garbage bin), helping with the gardening (by digging everything up) and so on. The illustrations add greatly to the text. Overall this book will appeal to any age with its visual humour blending so well with the text.
reviewed by Julie Long