Bridget Farmer, The Bush Birds, Black Cockatoo Books, October 2021, 32 pp., RRP $29.95 (hbk), ISBN 9780646843025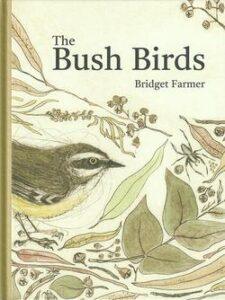 The Bush Birds takes the reader on a walk through the Australian bush to discover twelve of our native birds. Each bird is depicted on a separate page, with its name concealed under a flap and a short rhyming stanza.  The rear of the book includes more information about each bird and more information to aid with identification.
The book is beautiful illustrated throughout, giving the birds a sense of movement and the colours associated with the bush. The text is simple, clear, and lyrical – though it would have benefited from an editor with expertise in metre.
The Bush Birds is a beautiful hardcover picture book perfect for those interested in birds and native birds in particular. Its simplicity would suit younger children and makes for a lovely gift.
Reviewed by Pam Ueckerman