Jarvis, The Boy with Flowers in His Hair, Walker Books, March 2022, 32 pp., RRP $27.99 (hbk), ISBN 9781406392517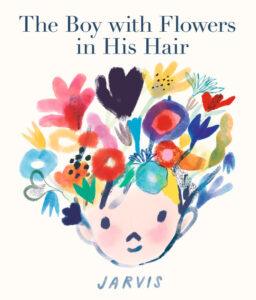 David is a beautiful, dear and quiet little boy. His vulnerability and uniqueness are reflected in the delicate blossoms in his hair. One day, without warning, the petals in his hair begin to fall, one by one, until finally there is not a single flower remaining. The power of friendship is demonstrated through the efforts of his loyal, best friend and the creative way in which he finds a very colourful solution to replace David's missing flowers…
A heart-warming and inspiring story about the importance of friendship and loyalty especially at a time when one is most emotionally vulnerable. The stunning illustrations complement the text beautifully which is perfectly pitched to a target audience of 3–7-year-old children.
Jarvis studied graphic design and previously worked as both a record sleeve designer and an animation director before becoming a children's book illustrator. Alan's Big Scary Teeth which won the 2017 V&A Best Illustrated Book is his debut title with Walker Books. His other books with Walker include Pick a Pine Tree, Tropical Terry, and Mrs Mole, I'm Home! In regard to his picture book inspiration, Jarvis says, "The way I work is always visual. I will have an image or character in mind and I pull a story out of it. I doodle and doodle and doodle until I get it right."
The Boy with Flowers in His Hair is appropriate for use in lessons that focus on social and emotional learning for this age group. Some possible metaphors for the flowers could include illness; disability; mental health, gender and difference. Additionally, the teacher notes are extremely useful to assist with a deeper exploration of the main themes.
Reviewed by Julie Deane