Malla Nunn, Sugar Town Queens, Allen & Unwin, August 2021, 312 pp., RRP $19.99 (pbk), IBSN 9781760526832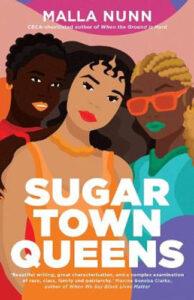 Sugar Town Queens is shortlisted for the CBCA's 2022 Book of the Year Award for Older Readers. It's the story of Amandla, a 15-year-old teenager of mixed race growing up in the township of Sugar Town, outside Durban with her mother. Amandla's mother, Annalisa, isn't your typical mother. She's a white single woman living in a black township, who 'refuses to be called mother in any of South Africa's eleven official languages' and won't tell anyone about her past. She also has strange visions that Amandla's father (gone since before Amandla's birth) is going to return to save them 'like a prince in a fairytale'. Amandla is embarrassed by her mother's strangeness and feels constantly out of place in Sugar Town – too white to be black and too coloured to be white.
After discovering a mysterious address and a wad of cash in her mother's handbag one day after her mother returns from a trip to Durban, Amandla decides to investigate. Along with her fearless friends, Lil Bit and Goodness Dumisa, she embarks on a mission to uncover the truth about her mother's life, why she ended up living with Amandla in Sugar Town and her mother's family. Ultimately the quest will lead Amandla to uncover who she really is and where she belongs. But not before she confronts some life-threatening challenges along the way which place her and her mother in real danger.
Sugar Town Queens is an engrossing tale of mystery wrapped in the day-to-day reality of life as a teenager in one of South Africa's settlements. The characters are well-developed, and the reader feels as if they are right there in Amandla's world with all its difficulties and mysteries.
Sugar Town Queens is Malla Nunn's second book for young adults. Her first, When the Ground is Hard, won the 2019 Los Angeles Book Prize for Young Adult Literature and was shortlisted for the Prime Minister's Literary Award. Nunn is also the author of four adult crime novels.
Malla Nunn's family emigrated from South Africa to escape apartheid and she now lives in Australia. This dual background means that the South African story is told with depth and authority but in a way that will appeal to Australian teenagers. There are many topics raised in Sugar Town Queens that make the title an excellent one for class or library discussions. Nunn examines the issues of race and apartheid, wealth, and privilege vs poverty, and in particular how your identity and sense of self can be determined by what others see as your place in society.
It's easy to see why Sugar Town Queens has been shortlisted in the CBCA awards and it would be a worthy winner of Book of the Year in its category.
Highly recommended for older readers
Reviewed by Caroline Arnoul