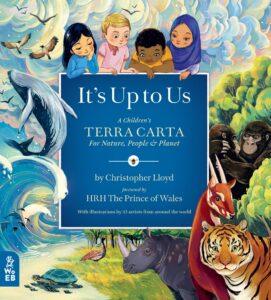 OF THE UNIMAGINABLY LARGE NUMBER OF PLANETS IN OUR UNIVERSE, EARTH IS THE ONLY ONE WE ARE SURE HAS LIFE. THAT MAKES OUR WORLD A TRULY WONDROUS PLACE AND NATURE AN INFINITELY PRECIOUS THING.
This stunning book has one simple message: the future of our planet is in our hands. More specifically, the future of our planet is in the hands of our children.
The book is based on the Terra Carta – 'a road map created by HRH The Prince of Wales and his Sustainable Markets initiative to put Nature, People and Planet at the heart of a global value creation.'
It is broken into four parts: Nature; People; Planet and Terra Carta. Over thirty award winning illustrators from around the globe have contributed their gorgeous art work to make this book a feast for the eyes. Children and adults alike will be entranced by the details in these illustrations.
Some of the text is quite technical, explaining the science behind our changing climate which has upset 'Nature's harmony'. Younger readers will need help in understanding this section. The pictures supporting this part of the book are bleak, but I feel it's important to be honest and for children to see the results of our past actions (or inactions).
However, the final part of the book is uplifting, outlining 'a plan of action for the Earth'. Each page is a call to affirmative action. For example: WE WILL 'get energy from renewable sources like direct sunlight, wind and water'; WE WILL 'listen to the wisdom of people whose ancestors lived in harmony with Nature for generations'. The final message is 'We CAN do this. We MUST do this. And we have to do it NOW. Because…IT'S UP TO US'.
The original preface to the Terra Carta, together with a helpful glossary/index and profiles of the illustrators are included. There is also more information about The Prince's Foundation, a charity established by HRH to demonstrate 'how Nature can be put at the heart of human activities' with a QR code and link to lots of resources, making this book an ideal resource for the primary school classroom.
It's Up to Us would make a perfect gift; a perfect resource for the primary school classroom and a perfect addition to any library collection. Half of all the proceeds of the sale of this book will go directly to the work of The Prince's Foundation.
Highly, highly recommended!
Reviewed by Gaby Meares