C.G. Drews, The Boy Who Steals Houses, Hachette Australia, April 2019, 300 pp., RRP $16.99 (pbk), ISBN 9781408349922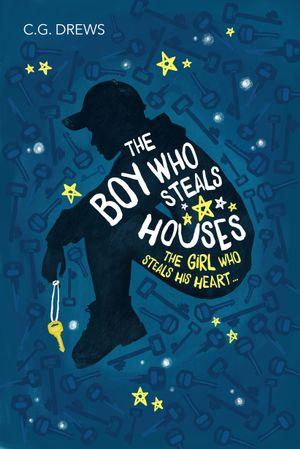 Fifteen-year-old Sammy Lou steals houses. He carefully selects houses where the owners are away and moves in for a while. "He stalks vacant windows and tricks locks and sleeps in stolen beds because he just wants to be home." (p. 16) He is otherwise homeless, and also protector of his brother Avery, two years older and autistic. Avery and Sam are saving up for their own home, something they desperately want but have never had. Abandoned by their mother when they were very young, their abusive father left them with their neglectful Aunt who resents their presence. They only have each other. Sam is "the invisible boy and no one cares" (p. 85) but this is alright, as long as his brother is safe. Sam is also on the run after an incident at his school. He is a loner, watching out for his brother, when he decides to steal Moxie's house. Sleeping in the study, he is almost caught out when he awakes to find the family has returned. He slips into the crowded household with the intentions of leaving through the door, but is mistaken for a friend of the siblings and is sat down to eat. Moxie De Lainey and her large family have their own grief and hardships and the more Sam gets to know them and their ways, the harder it is for him to stay away. Sam is living a dual life, surreptitiously living in the De Lainey household with Moxie's help while still trying to look out for Avery. He can only run for so long though before Moxie finds out the truth.
Sam and Avery are lost boys due to cruel abandonment and abuse. Moxie and her family are grieving the recent loss of their mother, and her father is trying to keep them together while trying to keep food on the table. With six children of varying ages from nineteen to a baby, this is not easy. Written mostly from Sam's viewpoint in the present tense, the reader is intermittently thrust back to previous incidents that chronicle major aspects of Sam and Avery's lives. The abuse and neglect they suffer is a most uncomfortable but necessary read and situates them well. The characterisation is a strong feature of this book. Not all characters are intended to be liked, but all are known well by the reader, a testament to the quality of writing. The devotion Sammy and Avery have to each other, as with Moxie and her siblings, is also a strong feature, as is the importance of belonging and being loved, basic human needs that are all too often not available to all. If only there were more De Lainey families out there. Highly recommended.
The Boy Who Steals Houses is Shortlisted in the 2020 Older Reader category of the CBCA Awards. 
Reviewed by Liz Derouet