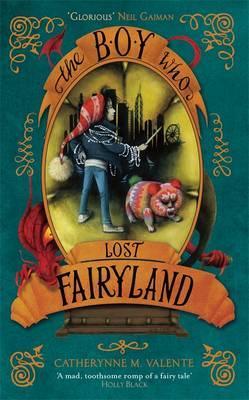 Catherynne M Valente,  The Boy who Lost Fairyland, Corsair/Little Brown Book Group, 1 April 2015,  235pp.,  $19.99 (pbk),  ISBN: 9781472112811 
Have you ever felt that you don't quite 'fit in' with the world around you? And although you've worked hard at reminding yourself that you are not 'a troll' or 'a wombat' or 'a saber-toothed tiger' and have learnt that 'a grown-up is a person taller than yourself' and that 'Father's office is off-limits' and most important of all 'there is no such thing as magic' you still feel all wrong inside? Welcome to the world of Thomas Rood, the protagonist of Catherynne Valente's wild, mad-capped Fairyland stories.
Hawthorn is a changeling, a baby troll stolen from his cradle by the Red Wind who takes him to the strange city of Chicago; a frightening and possibly magic world (from a troll's perspective) of humans. Here he takes the place of a human boy, Thomas Rood and must learn about parents, school teachers, bullies and loneliness before he is able to find his way back to fairyland at the age of twelve. But there is much more to the tale than this and, as you'll discover, to fairyland.
Although the fourth in Valente's Fairyland series, the book can be read as a stand alone story.  Written with wit and wisdom and just a little bit of the absurd you'll soon believe that talking toy wombats and singing pet gramophones with legs are not that unusual.  Lewis Carroll and his tales of Wonderland may come to mind as you throw yourself into a world where perhaps magic really can exist if you believe it enough!
So surrender yourself into this fantastical world; let Valente's colourful beautiful language swirl and slip around your palette like spoonfuls of delicious food and eat it slowly, she demands it!
A writer of fantasy, science fiction, short stories and poetry, Valente has won numerous awards. This is a wonderful, wild tale that will be enjoyed by both children and adults.
Highly recommended 12+
reviewed by Mem Capp