T.C Shelley, The Boy Who Hatched Monsters, Bloomsbury, March 2022, 320 pp., RRP $14.99 (pbk), ISBN 9781526600790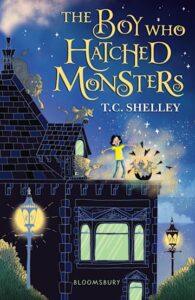 In the magical conclusion to The Monster Who Wasn't trilogy, Sam and his miscellaneous pack undertake the ultimate adventure to save the whole of human and monster kind.
Sam's journey takes off right where it was left in The Werewolves Who Weren't. He and the gargoyles are now responsible for a cheeky monster hatchling, Nugget, who lives in his sock drawer. If their hands aren't already full enough, when banshee Maggie discovers Sam's egg-hatching abilities, she does everything she can to manipulate Sam into fulfilling her evil wishes.
Soon it will be on Sam's shoulders to save the children of his town from a watery grave, rescue his captured family and stop Maggie from putting an end to humankind.
T.C Shelley creates a fantastical world, riddled with humour, adventure and magic. In this final instalment, the themes of family, friendship, and loyalty shine through making for a brilliantly positive read. There's also an important lesson in learning to accept the differences of others as humans and monsters finally navigate a world in which they can happily exist alongside each other.
The Boy Who Hatched Monsters is an enchanting read for fantasy readers aged 10 and up.
Reviewed by Olivia Sammut