Ursula Dubosarsky (text), and Amy Golbach (illustrator), The Boy Who Could Fly and Other Magical Plays for Children, Second Look Publishing, July 2019, 193 pp., RRP $15.99 (pbk), ISBN 9780994528094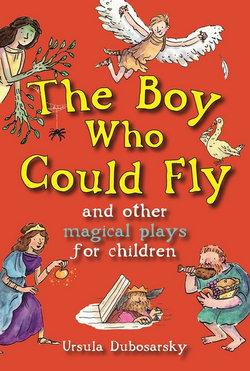 These eleven plays were all originally published in the NSW School Magazine over a number of years. The stories have been adapted by Dubosarsky from Ovid's Metamorphoses into plays for middle school aged children – they are succinct versions of the originals, a section rather than the entire stories. As well as being fun to perform, they would be a good introduction to Greek and Roman mythology and the classics.
Dubosarsky has maximised the humorous aspects of these stories, and has written them in modern parlance. The sections of the stories dramatised in the plays have been carefully chosen and sometimes express a different point of view from the original, such as Ariadne's role in Theseus slaying the Minotaur. Many of the main characters are children, and she has created roles to suit all levels of involvement – speaking and non-speaking, major and minor. She has offered suggestions for actions as well as the dialogue. The literary qualities of the plays are high, consistent with the quality of Dubosarsky's novels. The language sparks, full of wit and vigour, and it is easy to visualise a performance from the text.
Recommended for upper primary and lower secondary libraries and drama classrooms.
Reviewed by Rebecca Kemble