Leslie Vedder, The Bone Spindle, Hachette Australia, January 2022, 352 pp., RRP $17.99 (pbk), ISBN 9781444966145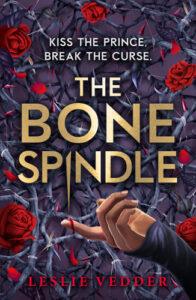 Here is another Sleeping Beauty revamp with more twisted thorns, switched gender roles and even more adventures.
Briar Rose is a descendent of a strong line of royalty, however, on his 16th birthday, he pricks his finger on a spindle and falls into a deep sleep as per the trope goes. After being forgotten along with his kingdom for a century, the one destined to save him – Filore (Fi) is his least expected saviour. Fi is a clever treasure hunter, together with her new partner – Shane the axe-wielding huntswoman, the two stumble upon the beginning of Briar's story. After Fi pricks her finger upon the same spindle that bound Briar, Fi becomes deeply entangled in a pricklier curse than she could imagine. Although roses have thorns, they also make beautiful symbols for love and courage, the key themes detailed throughout The Bone Spindle. By flipping over the first page of the novel, be prepared for dark magic, witch hunters, beasts, and curses to come!
Fi and Shane are complete opposites, from their choice in love partners through to their choice in treasure. However, this makes them a striking pair of treasure hunters. Together they embark to save Briar who is hopeful, warm, and still awaiting a true love's kiss. Throughout the course of the novel, it is slowly revealed to readers the deep burdens that each of these characters carry with them. Through the well-paced novel, the character development adds further complexity and depth to the story line uncovering the theme of sacrifice in the name of family.
Leslie Vedder is passionate about YA fiction without the prejudice against LGBTQ+ characters. Through her debut novel, she has well and truly delivered this theme providing a refreshing outlook of her characters and story. Vedder has crafted a strikingly detailed new world. Her style has propels readers to a different dimension and allows them to completely escape from reality. I am very excited to see where else Vedder will be transporting her readers in the near future!
To be completely honest, I was initially reluctant to read yet another rework of a fairy-tale. However, I am glad I was judicious and turned the cover. I would recommend this novel to all YA fiction readers prepared for an action-packed adventure from start to finish. However, BEWARE! Vedder's new kingdom won't simply come to an end here as this is just the beginning!
Reviewed by Anna Tran