Gregory Maguire (text) and David Litchfield (illustrator), Cress Watercress, Candlewick Press, March 2022, 224 pp., RRP $37.40 (hbk), ISBN 9781536211009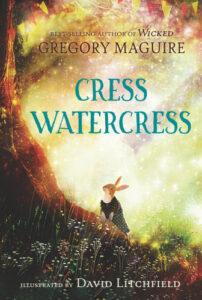 Cress Watercress takes its title from the name of its protagonist, an anthropomorphised young rabbit. It's the story of her endeavours to settle into her new home in the hollow of a tree called the Broken Arms. There she gets to know the local woodlands animals – some friendly and some dangerous – as she faces new life challenges.
The book is written by Gregory Maguire, author of Wicked on which the popular musical is based. His expertise as a writer is evident in his rich and vivid imagery and original metaphors, but still in everyday language that is accessible for its young audience. The strong portrayal of distinctive, colourful characters is skilful too.
There are suspenseful moments in the book when Cress encounters misadventures or is threatened by menacing or dangerous creatures. At other times, the story ambles on gently with recounts of everyday activities amongst the eccentric inhabitants of the Broken Arms. The silliness and absurdity of these characters is playful and humorous and I love how they are named for concepts associated with them. To name a few – there's Monsieur Reynard, the fox, an old snake called Final Drainpipe, a bird couple called Romeo and Harriet.
Below the surface of the story's events is Cress's struggle to come to terms with her father's disappearance and the new challenges she and her mother now face. She battles to prove that she is growing up and can be relied on to take responsibilities, whilst all the time learning from her mistakes. Her conflicting emotions – worries, fears, courage, disappointments, hopes and frustrations – make her highly relatable.
Illustrations amongst the text, by David Litchfield who has won multiple illustrator awards, are also masterful. They support character development with anthropomorphised, animated facial expressions for the otherwise realistic drawings of the woodlands animals. The background settings of northern hemisphere vegetation are detailed and atmospheric, evoking the mood and natural environment of the story.
The story content is relevant to 8-9 year olds. As a beautifully written book with a classic feel, but still having contemporary appeal, it's an excellent option for encouraging kids to experience quality literature. I recommend that adults read the book with their kids to help them appreciate the subtleties of the humour and plot and the story's serious themes of resilience, grief, growing up and coping with change and adversity.
Reviewed by Barbara Swartz