George Ivanoff, The Australia Survival Guide, Puffin Books, 176 pp., October 2019, RRP $24.99 (hbk), ISBN 9780143796572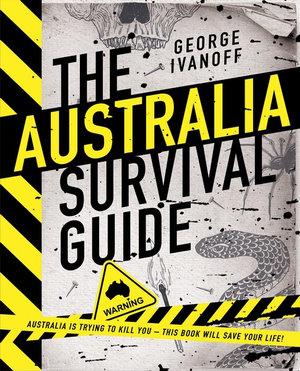 The Australia Survival Guide is an educational reference book that follows the motto "forewarned is forearmed ". It presents a range of potential dangers in Australia that could kill or harm you if you were not careful and shows you how to minimise or avoid them altogether. But far from all doom and gloom, this Guide has a healthy dose of narrative and crazy humour thrown in, so readers will be entertained and even amused as their fear of encountering snakes, spiders, jellyfish and other "nasties" in nature decreases. In the end, they'll find that Australia isn't so scary after all. In fact, it's a wonderful place to live or visit!
The author cleverly uses a fictional 13-year-old boy who's reluctantly travelling around Australia with his family as the book's narrator. This highly relatable character plays a large part in dispelling the fear factor for readers 9+ years. The narrator begins each chapter with an over-the-top description of how frightening and deadly the next topic is. Next, he presents the facts to gain a more realistic perspective on the subject., and invariably comes to the realisation by the chapter's end that the danger can be minimised with some basic common sense.
I loved that the narrator appears throughout the book as his gaming avatar; a little guy in the style of a popular computer game that shall remain nameless (but which starts with an "M" and ends with "inecraft").
Different sections in this Guide cover different kinds of dangers: "On Land" (e.g. chapters on Slithering Death and Tiny Flying Vampiric Death), "In The Water" (e.g. Wibbly-Wobbly Jelly Death and Tentacled Death), "The Environment" (e.g. Hot Thirsty Death, Sandy Drowning Death, and Not Death – which is about Bush Tucker and Bush Medicine). There's also a section called "Everything Else (Not All Of It Involving Death)", which covers some examples of how we have been more harmful to Australia than it has to us. These include white settlement/invasion, introduced plant and animal species, pollution and even nuclear weapons. Of course, the author has lightened up this section too with fun stuff, such as our preoccupation with BIG tourist attractions, and vegemite.
Design features greatly help in making the information accessible, interesting and at times very funny. They include distinctive yellow/black emergency warning colours throughout, photos (black and white, of course!), fact boxes, mock-newspaper extracts, top ten lists, and yellow "post-it notes" with fun comments from the narrator. Every eye-catching page encourages browsing, which should be helpful in enticing reluctant readers.
Backmatter includes a Glossary, Further Reading and About the Author sections. Watch out for the author's several cameo appearances, in which he sometimes takes the opportunity to promote his other books. If that doesn't give you enough of an idea about the tongue-in-cheek spirit in which this book was created, check out the author's four Attenborough-esque book trailers for this Guide, accessible via his website.
But be warned – you may die laughing!
Reviewed by Julie Murphy