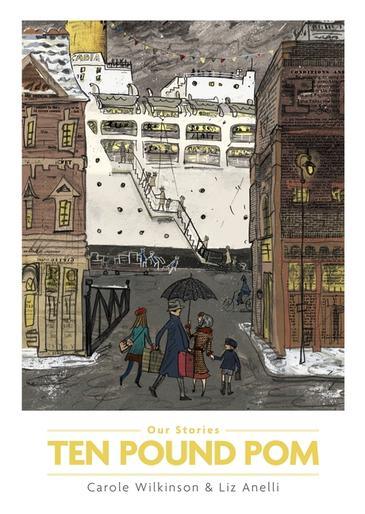 Carole Wilkinson (text),  Liz Anelli (illus.),  Ten Pound Pom,  Black Dog Books/Walker Books Australia, 1 Oct 2017,  32pp.,  $24.99 (hbk),  ISBN: 9781925381214
Ten Pound Pom is latest addition to Walker Books' award-winning Our Stories series. A narrative non-fiction information book, it tells the story of a young girl who, along with her mum, dad and older brother, immigrate to Australia by ship in the 1960s. Based on the real-life experience of author, Carole Wilkinson, the family represents many British families who took part in Australia's Assisted Passage Migration Scheme in the 1950s and 60s.
It is a fascinating account, packed with so many little details that the book must have required countless hours of research. Did you know, for instance, that the families who paid ten pounds per adult to immigrate to Australia were treated just the same as the full-paying tourists who were there for a conventional cruise? That's right! They did all the same fun cruise-ship activities as the holidaymakers on these floating hotels, including buy souvenirs, swim in the pool, go to the cinema, and eat four meals a day; each with at least three courses!
The writing is accessible and compelling; the characters authentic. I loved the way the narrator's English heritage coloured her account, through small references such as the climate being hot (at just 22oC!), and dancing to Cliff Richard records.
Liz Anelli's line-drawings have a busy-ness that remind me of Roland Harvey's work. Like the text, the illustrations have plenty of details to discover. With a colour palette that gradually changes from the drab, subdued tones of England to bright sunshiny ones of Australia, readers are left in little doubt that our young narrator will gradually adapt to her strange new home.
The back matter has expository text about the legislation relating to Australia's immigration policy of the time, and the reasons behind it. There's also a useful glossary and index.
This book highlights a significant chapter in Australia's modern history, which the publisher states has not before been covered in children's literature. It could be a useful way for some young readers to better understand their own personal family history, and is suitable for upper primary to mid-secondary curriculum studies.
Reviewed by Julie Murphy