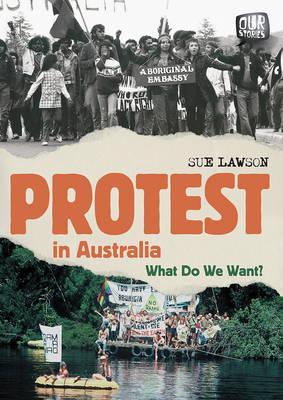 Sue Lawson. Protest in Australia (Our Stories). Walker Books Australia, 1 April 2016, 32pp., $17.99 (pbk), ISBN 9781922244543
Sue Lawson is well known for her children's and young adult fiction through books like the award-winning titles Allie McGregor's True Colours (2006) and Pan's Whisper (2011). In Protest in Australia, Lawson turns to non-fiction in a highly informative and thoughtfully illustrated picture book for middle and upper primary school students.
Using single or double-page spreads throughout, Protest in Australia opens with some of the politically and economically motivated protests of the colonial era—the Battle of Vinegar Hill, the Rum Rebellion, the Eureka Stockade, the Shearers' Strike and the women's suffrage movement. Nearly half of the 17 featured protests turn the spotlight on Indigenous issues including the Wave Hill Walk-Off, the 1967 Referendum, the Mabo land rights case and the Stolen Generations. Environmental protests are highlighted through the 'No Dams' campaigns in Tasmania and the fight to 'Save the Whales'. The reproductions of artworks and photographs (many in colour) complement the writing and tell their own story.
Lawson's text for each protest begins by placing the underlying discontent in its historical context and ends with an indication of the protest's impacts and achievements. By providing the tangible results of 'democracy in action', Lawson may inspire her readers not to settle for a laissez-faire, 'she'll be right' approach to citizenship, but to become actively involved in their nation's destiny. As she points out, the students who participated in the 1965 Freedom Ride 'provided the spark that encouraged others to speak out and take a stand'.
Inevitably for a 32-page book, there are campaigns of significance to Australia's national identity which are omitted—the anti-nuclear/anti-uranium movement and the battle for gay rights, for instance. The inclusion of a timeline could have allowed a passing reference to these campaigns. Given that the featured protests are not arranged in strict chronological order, a timeline would also have offered a visual reference point for major milestones.
Protest in Australia will be particularly useful as a class resource for teaching history in the upper primary years (e.g. the Australian Curriculum Knowledge and Understanding areas 'The Australian Colonies' in Year 5 and 'Australia as a Nation' in Year 6). Lesson ideas for use with Years 5 and 6 are available via the Walker Books Classroom website.
(Note: Lawson's research for Protest in Australia led to an interest in the 1965 Freedom Ride which, in turn, resulted in her YA novel Freedom Ride, published by Walker Books Australia in 2015).
For ages 8+
Reviewed by Tessa Wooldridge