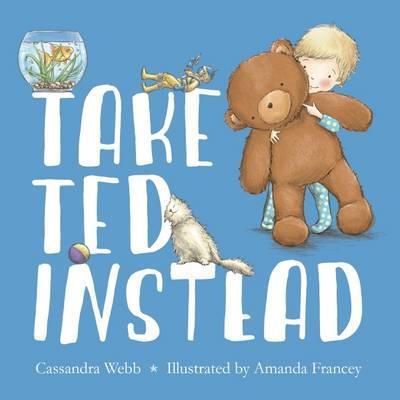 Cassandra Webb (text), Amanda Francey (illus), Take Ted Instead, New Frontier/Scholastic Australia, April 2016, 32pp.,  $24.99 (hbk),  ISBN 97819525059533 
Anyone who has had to put a reluctant toddler to bed will smile at this book's storyline. Mum is trying to put 'sleepy head' to bed, but he resists and offers multiple alternatives instead from his cat to his goldfish to his elderly neighbour (whose names all rhyme with sleepy head).
The rhyming and repetition of the text make it a fun book to read aloud, while mum's reverse psychology at the end to get 'sleepy head' to bed will surely resonate with parents. The colourful illustrations support the text, and include wonderful details that children and adults will enjoy studying. The final illustration with everyone in bed, including the goldfish, is delightful. Overall Take Ted Instead is a lovely picture book that will become a favourite at bedtime.
Reviewed by Jane Carstens