Jane Smith (text) and Pat Kan (illustrator), Superstar! (Carly Mills Pioneer Girl, #3), Big Sky Publishing, March 2021, 140 pp., RRP $12.50 (pbk), ISBN: 9781922387646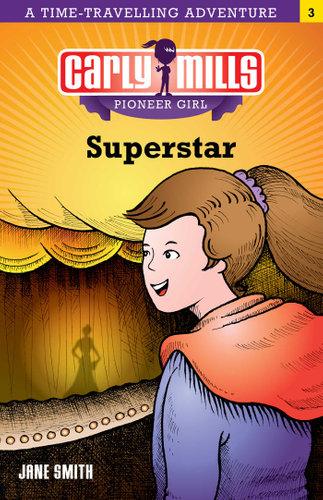 Superstar is the third instalment in the Carly Mills Pioneer Girl series, a collection of empowering stories about a feisty, time-travelling tween who discovers how female pioneers have paved the way and changed the world. Written by award-winning author Jane Smith (Bushranger non-fiction series and Tommy Bell Bushranger Boyfiction series) and illustrated by talented illustrator Pat Kan, this original series brings to life the overlooked colonial history of female changemakers, for younger readers in the 6-11 years' bracket.
By donning her magical scarf, Carly and her friend Dora are transported back in time to meet trailblazing women such as immigrant mentor, Caroline Chisolm (Book 1, Carly Mills Pioneer Girl: A New World) and Queensland's first female doctor, Lilian Cooper (Book 2,Carly Mills Pioneer Girl: Emergency), who, through their determination, integrity and courage achieved remarkable things.
In Superstar, the girls and their reluctant, sometimes mean friend, Simone, are transported back to meet a young trickster called Nellie who turns out to be none other than world famous opera singer, Dame Nellie Melba. 
Carly and her friends, who are visiting Melbourne on a trip with their own school choir, get to witness Dame Melba's performance of Comin' Through the Rye at her Sunday school concert when she is just six years old; her time as a day student at the Presbyterian Ladies College; the early days of her unhappy marriage, and eventually her first Australian concert as Madame Melba at Melbourne Town Hall.
Through all this adventure the young friends are dismayed and angered to see the obstacles and prejudices women face in their day to day lives and are amazed at how Nellie, a mischievous little songbird, grows up to achieve her dreams against all the odds.
Fast paced, full of adventure and dialogue, this narrative along with the historical notes, quotes, and Q and A with Nellie Melba at the end of the book would be a great resource for primary teachers to use alongside the accompanying teacher notes available at www.carlymillspioneergirl.com
Exploring themes of friendship, the arts, Australian history, sexism and feminism, this story celebrates the achievements of a remarkable and talented woman. As well as being enjoyable and accessible to younger or reluctant readers, this series brings the past and stories of inspirational women from all walks of life into focus.
Reviewed by Lisa Hoad