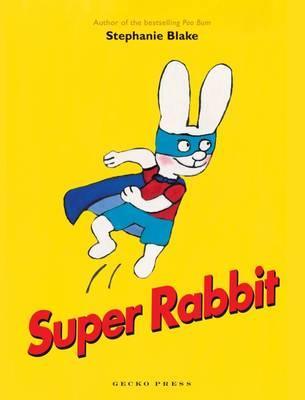 Stephanie Blake,  Super Rabbit,  Gecko Press New Zealand,  1 Oct 2016, 32pp.,  $15.99 (pbk),  ISBN 9781877579578
Eye-catching in bright primary colours, Blake's simple and energetic tale reminds me of Dick Bruna's early years board books. The tone is set by cheeky yellow and black endpaper drawings of our hero and continues with centred large black type opposite bold illustrations.
Simon and his family are already popular in France in books and cartoons about simple day-to-day experiences, and this addition to the series is a bedtime read that allows discussion about anxieties and accidents. The 'fearless' rabbit gets carried away in his exuberant play, stuck in a tree and pricked by a splinter – showing children that it is acceptable for even superheroes to yell for their mother when something goes wrong.
This book will particularly appeal to pre-school boys who like a bit of adventure.  Suitable for 2-5 year olds.
Reviewed by Liz Anelli