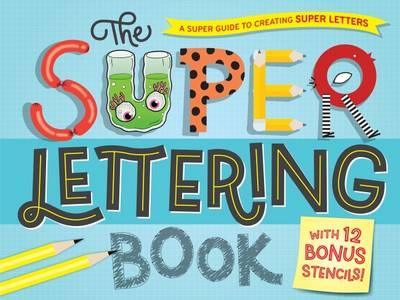 Samone Bos (ed), The Super Lettering Book, Hardie Grant Egmont,  Sept 2016,  56pp.,  $19.99 (hbk),  ISBN: 9781760128715
Fancy fonts and creative lettering are just the tip of what The Super Lettering Book offers to young designers. In a world of sterile computer fonts, this book provides inspiration and instruction on how to create gorgeous word art that combines words and their meanings to add extra pizazz to posters, signs and artworks.
Beginning with several pages of simple instruction, the book quickly dives into a range of alphabets, inspired by themes such as 'Snack Time', 'Creatures' and 'Creepy Stuff'. Each alphabet is followed by a double page spread of examples, with tips from the lettering artists themselves.
For less confident beginners, sturdy cardboard stencils are provided at the back of the book, featuring a range of cool and kid-friendly words such as 'awesome', 'selfie' and 'do not disturb', each in their own unique font.
Perfect for any aspiring artist, graphic designer or cartoonist, this book will be a much used resource for middle and upper primary students. With a metal spiral binding which allows the book to be folded back for easy tracing, The Super Lettering Book introduces fonts and word art in a friendly, fun and accessible way. A fantastic, hands-on book!
Reviewed by Kay Oddone