Gwyneth Rees (text), Becka Moor (illustrator), Super Cats, Bloomsbury Publishing, April 2019, 176 pp., RRP $12.99 (pbk), ISBN 9781408894194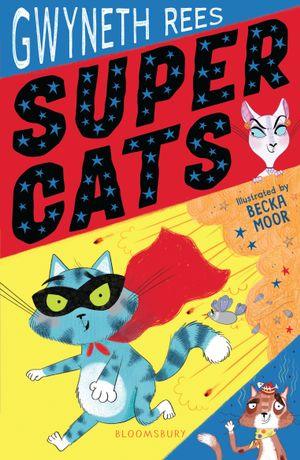 Gwyneth Rees' return to junior fiction is a triumph. Super Cats kicks off a series about Tagg the kitten and his super cat family. Tagg is excited to find out not only that super cats exist, but that he IS a super cat! As there's only one per litter, this makes Tagg unique, and he's eager to start having adventures – but when the local hit cats are involved, and maybe a worldwide scientific conspiracy underway, will Tagg's new super power be enough? Tagg teams up with another super kitten, Sugarfoot, to investigate and test out their new powers. They make a very cute team!
This book will certainly make kids giggle, the font is large, and the chapters are short. It is best-suited for silent reading at school, or a chapter each night before bed. The bad guys are made humorous rather than threatening and are unlikely to upset readers.
The black and white illustrations by Becka Moor are simple but perfectly complement the light-hearted tone of the novel, and depict some of the funniest scenes (no spoilers!).
Similar in tone to Anh Do's Weir Do series, Super Cats would be a good choice for a reluctant reader as it's humorous and fast-paced, or of course any cat lover!
Reviewed by Jessica Dowling