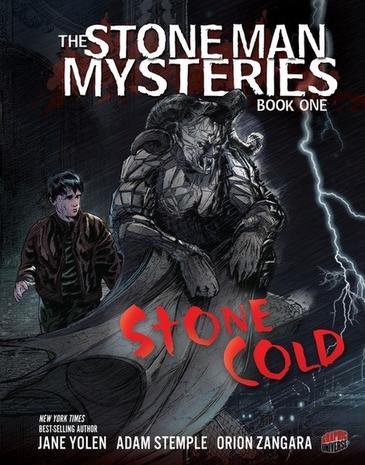 Jane Yolen (text), Adam Stemple (text),  Orion Zangara (illus.),  Stone Cold (The Stone Man Mysteries#1),  Walker Books Australia,  1 Nov 2016,  80pp.,  $15.99 (pbk),  ISBN: 9781512411553
Set in 1930s Scotland, this first graphic novel in the Stone Man Mysteries is a visceral and grim tale. The stone man, Silex, is cursed to watch. High above the Edinburgh city streets Silex is trapped in the guise of a gargoyle. To pass the endless time, he runs an unlikely investigation operation from his rooftop perch. Solving crimes appeals to Silex, especially when the mysteries are entwined with his own past. With the help of a priest and the newly recruited Craig, the stone man is determined to solve a new case. They must uncover those responsible for the unexplained murder of Angus McFearsome, Earl of Stockbridge.
Easy to read and an uncomplicated storyline, Stone Cold paves the way for a series of mystery and redemption. Aimed at ages 12 and over, this graphic novel is also good for readers who may struggle to focus on a traditional novel with a detailed narrative.
The black and white illustrations of Orion Zangara are as cold and harsh as the streets of Scotland at the time.
There is character development in all main characters as well as Silex's struggle for atonement. We see the growth of loyalty to a cause as well as to each other. As the story unfolds, we learn there is a bigger picture at play. Political rumblings of the time collide with a supernatural agenda.
Graphic novels are not my preferred reading material. While I may have had a brief flirtation with Tank Girl comics in the mid '90s, YA novels are where my heart's at. Though not for me, I can see the appeal of graphic novels and I will happily recommend Stone Cold to my secondary students.
Reviewed by Fiona Miller-Stevens