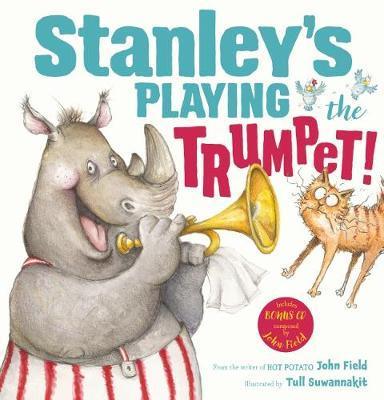 John Field (text),  Tull Suwannakit (illus.), Stanley's Playing the Trumpet,  Scholastic Australia, 1 Nov 2017, 24pp., $19.99 (hbk + CD),  ISBN: 9781743815892
Stanley's Playing the Trumpet is a funny story about a determined rhinoceros, Stanley, who is certain a little practice can make perfect.
Stanley wants to be in the band. He has a trumpet and he is going to practice until he gets it right. Unfortunately for Stanley's family, his neighbours and anything within a kilometre that has ears, Stanley's trumpet playing is atrocious.
Stanley's ignorant enthusiasm makes for a humorous tale. Young children will enjoy replicating the bleurts, bwaahs and blaacchs that Stanley attempts to pass off as music. Accompanied by a lyrical CD, the story is a perfect fit for any early years music classroom.
Tull Suwannakit's illustrations are a mix of watercolour, coloured pencils and pencil on watercolour. While Stanley may be the one vying for centre stage, it's the reactions of each of Suwannakit's characters exposed to the sounds of Stanley's determination that steal the show.
Stanley's Playing the Trumpet is story of determination, disappointment and discovery and is recommended for children aged 4 to 7.
Reviewed by Fiona Miller-Stevens