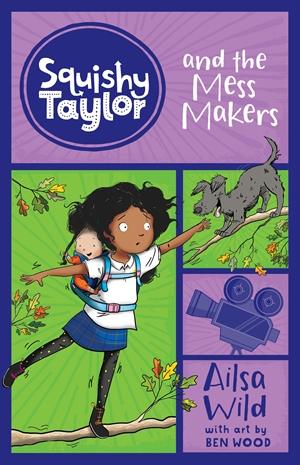 Ailsa Wild (text),  Ben Wood (illus), Squishy Taylor and the Mess Makers (Squishy Taylor #4), Hardy Grant Egmont, 1 April 2016, 128pp., $12.99 (pbk),  ISBN  9781760126780
Squishy Taylor is a fresh, new junior novel series offering a great alternative to the multitude of 'girly-girl' series for this age-group. It's great to see an Australian children's book series starring non-anglo kids. While there is no overt discussion of race, Squishy is depicted as a brown girl and her step-sisters appear to be Asian.
This is the fourth book in the series and getting a handle on Squishy's complex family relationships takes a little nutting out without the benefit of reading the previous books. Squishy has 'bonus sisters' – step sisters – Baby, who presumably is Dad and step-Mum Alice's new child, and a Skype Mum in Geneva.
But the real fun is in the story about Squishy's hero; rock climber extraodinaire, Carmeline Clancy. Carmeline just happens to be filming a new series in the apartment block around the corner from Squishy. When Carmeline is accused of being a precocious brat and trashing her apartment, Squishy jumps to her defence. With her step-sisters Vee and Jessie, Squishy starts investigating the mystery in a bid to prove Carmeline's innocence.
This is a fast-paced read with engaging illustrations. The kids have a lot of fun and lots of laughs while using their ingenuity and foolhardiness to solve the mystery.
Some of Squishy's stunts and devil-may-care attitude must come from the author Ailsa Wild who is a trained circus performer. There is more information about the series, including teacher notes and author biography, available at http://www.squishytaylor.com/
Highly recommended for middle primary readers.
Reviewed by Heather Gallagher