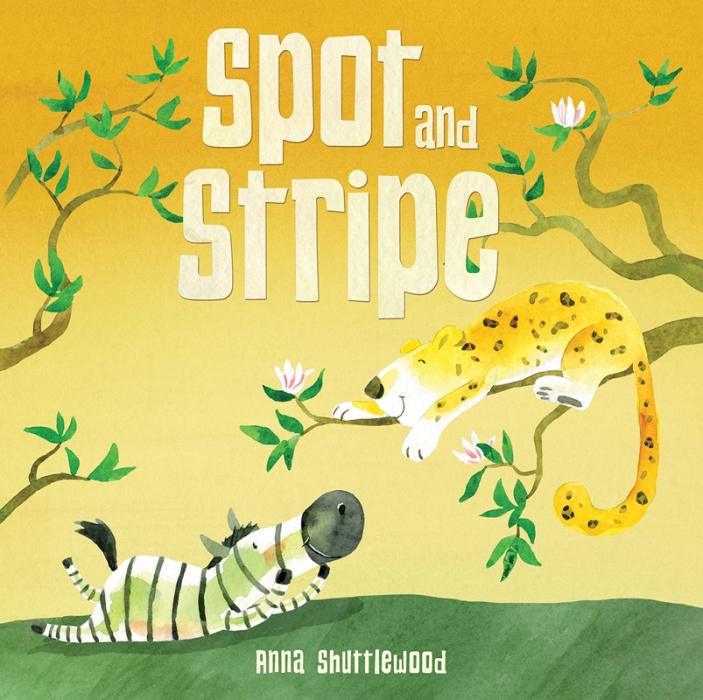 Anna Shuttlewood, Spot and Stripe, The Five Mile Press,  March 2016, 32pp.,  $16.95 (hbk), ISBN: 9781760401405
Spot and Stripe is a beautifully illustrated picture book about the playful adventures of best friends, Spot the Leopard and Stripe the Zebra.  They love being together and help each other to learn new skills that make the most of their boisterous outdoor life.  But Spot and Stripe want to be exactly alike – in looks as well as in the things they like to do – so they come up with a plan to find out what life would be like if they were indeed exactly the same.
This book follows the success of Anna Shuttlewood's first picture book, The Race to the Beach and is sure to delight children with its gentle storyline and highly appealing watercolour illustrations.  When I 'tested' it on my almost six-year-old grandson – who is more used to being read Harry Potter than picture books – he was captivated by the romping adventures of Spot and Stripe, especially the illustrations.  On numerous occasions, I had to go back to the previous page so he could have a longer look at the pictures; and there was even discussion about the endpapers.
Spot and Stripe gently speaks of the joys of friendship, of shared experiences and the embracing of difference.  This book will be a great addition to pre-school libraries and a young child's bookcase.
Reviewed by Jennifer Mors