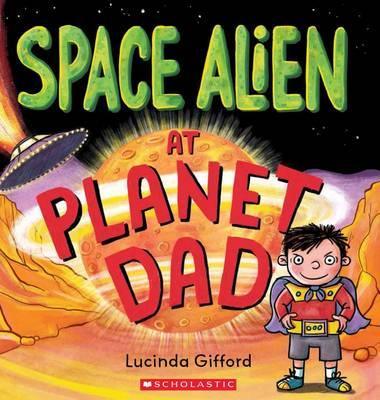 Lucinda Gifford,  Space Alien at Planet Dad,  Scholastic Australia,  1 Feb 2016,  32pp.,  $15.99 (pbk),  ISBN 9781760153687
Lucinda Gifford has found a uniquely funny and gentle way to help small children cope with the addition of a new partner into their parenting situations.
Having a single dad means Jake can play with him on a one-to-one boy's level, which suits him just fine. That all changes when one weekend visit he meets the "Space Alien… in the viewing platform". Background details show the reader that 'The Alien' quickly 'feminises' Dad's flat, but my favourite aspect of this child-centred story is that it the reader is never told the details of dad's new friend and it could equally apply to same sex partners.
A mixture of flat computer and textured paint-effect images within a jaunty black line creates a comic book style layout that enables Gifford to pack lots of easily readable information into each spread. There's a great sense of composition with monochrome areas leading the eye back to catch those all-important secondary issues. Punchy graphic lettering emphasize the space-themed ways Jake tries to dispose of the intruder until its good-natured ways (and common interest in space) win him over and he lets his force field drop.
Suitable for ages 3+.
Reviewed by Liz Anelli