Kay Kerr, Social Queue, Text Publishing, September 2021, 288 pp., RRP $19.99 (pbk), ISBN 9781922458018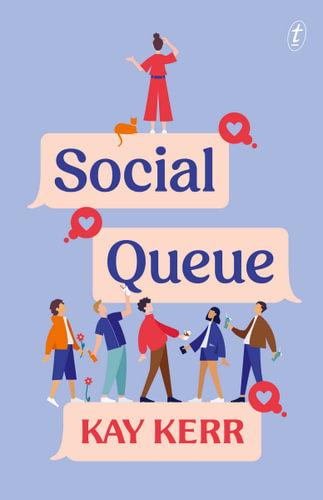 Kay Kerr's debut novel, Please Don't Hug Me was notabled by CBCA this year. Her second novel is even better. Social Queue follows Zoe Kelly in her first year of journalism and a casual internship at an online media company. What follows is an authentic, heart-warming, and witty exploration of dating, identity, and reflection on high school life. That Zoe is autistic is a bonus. While inclusivity is a topical, almost trendy element of contemporary young adult novels, in Social Queue, it's included organically and never feels false. Zoe's bullying and social dysfunction could happen to any of us, and her relatability is a strong component of the narrative.
As part of her internship Zoe writes a personal piece about her problems with finding dates, and reminiscences on her lack of crushes in high school. When five of her peers comment on the blog post admitting to having been attracted to her, her boss encourages her to connect with each one to see why and how she missed their interest. This is a chance to keep writing and in doing so, she's given an opportunity to not only publicly comment on modern romance, but to also reflect internally on her expectations of both herself and others. She's also secretly hoping that one of them might be a potential suitor. The result is a beautiful portrayal of someone learning to accept her flaws, to celebrate her strengths, and to embrace her uniqueness.
Zoe's adventures are sometimes fun, sometimes a little scary, and too often a bit embarrassing. Her voice is equal parts vulnerable, hopeful, and wise. Some of her comments are incredibly funny in that droll, just-stating-facts-ma'am kind of way. She overthinks everything and this means we have access to her interior monologue, ruminating on workplaces, social interactions, and modern life. Her relationship with her family is positive and supportive. Her sister Harriet is an extrovert to Zoe's introvert, so they clash but their battle of wits is wonderful and endearing. Best friend Ari now lives on the other side of the world, but Zoe is confident in their relationship.
When Ari's twin brother Gabe settles into the story, their snarky banter comes from a history of a long-lasting friendship, and while Zoe's trust in Gabe has been shaken, she is honest about her suspicions of his intent and his genuine remorse and attempts to be better add an important layer. As Zoe navigates the 'dates', other sub-plots are weaved through: The way police deal (badly) with people with disabilities, Ari's extreme partying in England, and Zoe's attempts to aide her colleagues to positively represent marginalised groups and individuals in their writing. It all adds up to a highly satisfying read.
Social Queue is highly recommended to older teens. While there is very little swearing or sexual content, Zoe is already 18, so the themes are more suited to readers aged 15 and over. One of the best books I have read this year.
Reviewed by Trish Buckley