Karen Foxlee, Dragon Skin, Allen & Unwin, September 2021, 336 pp., RRP $19.99 (pbk), ISBN 9781760526108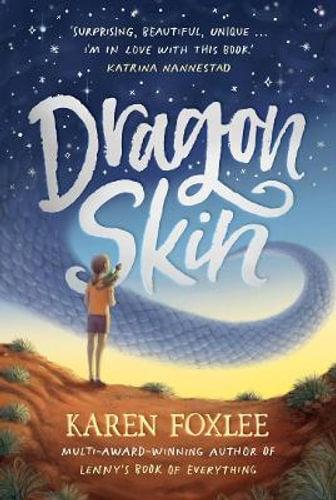 This book, Foxlee's much-anticipated latest offering, uses magical realism to weave a complex story of grief, friendship, courage and caring.
Pip lives with her mother and her mother's boyfriend Matt in a mining town. She very much misses her friend Mika, the loss of whom has contributed to her becoming quite solitary. The other reason is Matt himself as Pip doesn't like to bring friends home when he is around. Pip constantly urges her mother to leave, and she dreams of going far away to live with her grandparents. The relationship between Pip's mother and Matt is a classic one of coercive control – he refuses to allow Pip's mother to study, he controls the finances, he tells her what to cook, he sells her car, he dictates where she goes and what she wears. Their house becomes a place of fear for Pip and her mother, a place where Pip needs to hide away, and they are both constantly on edge trying to judge Matt's moods. There is an underlying critique of toxic masculinity here with Pip's friend Mika offered as a contrast to Matt: Mika is gentle, perfectly happy to be friends with a girl and regards her as an equal and shares her interest in the natural world.
It is against this background that Pip spends a lot of time near the waterhole, not wanting to go home. She loves poking around in the dirt finding 'treasures'. One day what she finds is a baby dragon. This magical moment means she must take responsibility for a dependent creature and nurse it back to health. She can no longer share this with her mother and so tries to manage by herself until another girl in her class finds out and surprises Pip, who had completely misjudged her, with her care and concern. Finally, another classmate, a boy also discovers the secret and helps the dragon back to health. New friendships develop and Pip finds that she is not the only one missing Mika. She learns a lesson in sharing and understanding.
There is a very strong sense of place in the book as the setting acts almost like another character. It provides a place of escape for Pip, a place of adventure and exploration for Pip and Mika, and ultimately is a place of sanctuary for the children and the dragon.
The pacing of the action is gentle even though the story takes place over just a few days. The changes in the characters and their interaction are, despite the short time frame, believable. Pip's mother finds the courage to leave Matt after one final incident. There have been hints throughout the narrative that she wants to do this with her phone search history often revealed. Pip's own strength and courage help her mother come to the decision. There is a kind of metaphoric rebirth, particularly for Pip whose skin has been pierced by the dragon's claw. When they finally leave, she feels as if her skin is splitting and shredding and she is emerging as a new person, free of the constraints she has been living under.
This is a striking and moving story of love and healing in three 'Acts' packaged in a beautifully designed book with lovely black and white illustrations introducing each act and as chapter heads.
Reviewed by Margot Hillel