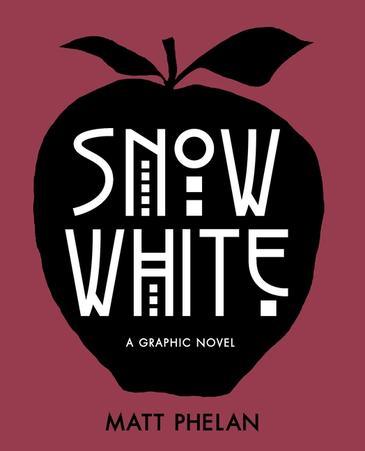 Matt Phelan, Snow White: a graphic novel, Walker Books Australia, 1 Sept 2016, 216pp., $27.99 (hbk),  ISBN: 9780763672331
This was a charming interpretation of Snow White set in the Great Depression era. The format is deceptively naïve, but there is a depth behind the simplicity that drew me in, and a charm in the artwork that had me return for a second and third reading.
Samantha White, known to her parents as Snow, is sent away by her new stepmother, the Queen of the Follies. After the suspicious death of her beloved father, Snow finds herself on the run in a dark and dangerous New York. Saved by seven street children, we can see the original fairytale format playing out.
The dialogue is sparse, and most of the story is told through the artwork. Colour plays a strong role as a signifier. Much of the story is in shades of grey, with sudden splashes of red – blood, a heart, the poisoned apple – to highlight shocking moments. Look out too, for the faint hint of green in one scene, the soft wash of blue, and the moment when gold and full colour creeps in.
The absence of colour makes the illustrations of Snow White's stepmother – the aptly named Queen of the Follies, star act of the Ziegfeld Theatre – particularly striking.  I love the 1920s stepmother. She is gorgeously, chillingly dangerous. Matt Phelan has imbued her with considerable cold menace, and the repeated tick of the ticker-tape machine, which stands in for the original mirror advising the Queen to kill Snow, is beautifully sinister. The visual image of how she eventually meets her end is electrifying.
This graphic novel would make a fascinating addition to a classroom discussion about fairytales and the various interpretations and forms of media that have used them over time, or different ways that fairytales might be told. It could also make an interesting entry point in talking about the history of the Great Depression.
It is very difficult to categorise the possible readership, although I would suggest it would be more suited to ages 10 and up, and particularly anyone with an interest in the intersection of art and story and how visual images work.
Reviewed by Emily Clarke