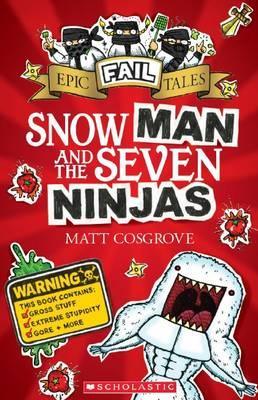 Matt Cosgrove, Snow Man and the Seven Ninjas (Epic Fail Tales #1), Koala Books/Scholastic Australia, Feb 2017, 96pp., $5.00 (pbk) ISBN: 9781743811696
If you thought you knew the story of Snow White and the Seven Dwarfs, think again. This is a retelling like no other! Stuck at home during the holidays, the narrator decides to alter his sister's gifted copy of Snow White. It has now become Snow Man and the Seven Ninjas, with a snow monster, and a "super hero dude" in the place of the wicked stepmother. When the Snow Man is defeated at the hands of a stunt man, he decides to go for training with the seven ninjas.
This is a funny and original twisted fairytale. The text resembles a book that has been defaced, with words crossed out and extras inserted to change the plot. The illustrations are funny and add to the story. There is much gore, bodily fluids and toilet jokes, defying any reluctant reader not to like this book. The first in a new series of Epic Fail Tales, this is sure to be a winner in public and school libraries.
Reviewed by Liz Derouet