Jane Godwin (text) and Alison Lester (illustrator), Sing Me the Summer, Affirm Press, October 2020, 32 pp., RRP $24.99 (hbk), ISBN 9781925972924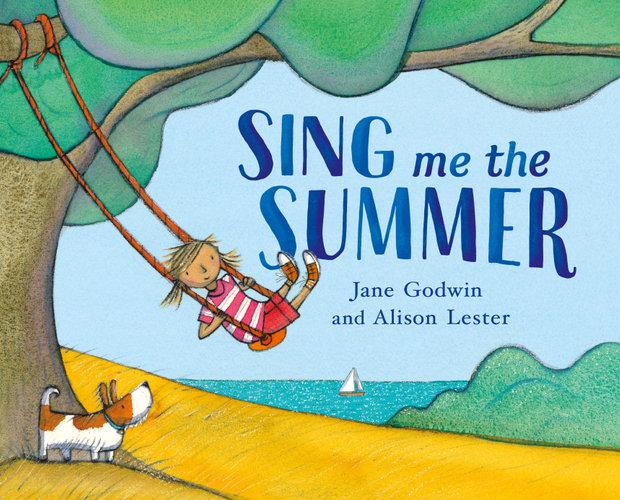 Sing Me the Summer is the second collaboration by Jane Godwin and Alison Lester. Its beautiful illustrations and gentle rhyming structure take us on a journey through Australia's seasons.
The story begins in summer with lazy days at the beach and night-times spent on the seaside exploring. A double-paged spread shows the summer fun of making tidal pools, lazing under an umbrella with a good read, kite flying, boogie boarding and splashing in the waves. Lester's illustration teems with a joy that so beautifully captures the heart of a family day at the beach. Godwin's words and Lester's images mimic a sequence many families would be familiar with – a big day at the beach followed by mid-afternoon snacks and quiet time.
Each season has its own shades of colour, and where summer is crisp hues of blue and splashes of pink, autumn is shades of amber. We see the markers of the season's change – leaves to play with, birds migrating, and the appearance of a favourite team's jersey.
Winter is cold outside with wind and ice in the trees. Inside the house, the pot-bellied stove dries shoes while card games, books, and blankets keep everyone warm and happy.
Springtime is brimming with green and new life can be found all around. Adventures to be had and discoveries to be made. Summer returns with the north wind and the beauty of rain clouds rolling in over the sea.
A certain whimsical wonder is apparent in Lester's illustrations. Her dogs and horses are of her trademark style (Bigsy and Noni's cousins perhaps) and images of family members embrace our cultural diversity.
Sing Me the Summer is a gorgeous and nostalgic tale celebrating family time during Australia's beautiful seasons.
Reviewed by Fiona Miller-Stevens