Maggie Hutchings (text) and Evie Barrow (illustrator), I Saw Pete and Pete Saw Me, Affirm Press, July 2020, 24 pp., RRP $24.99 (hbk), ISBN 9781925972825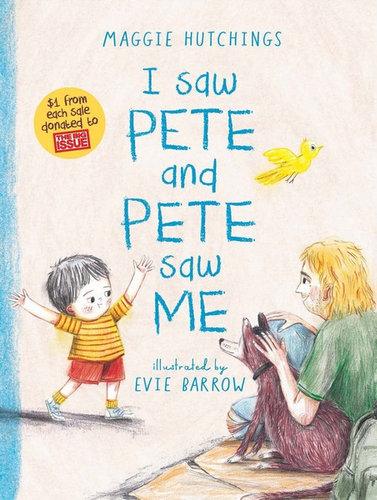 This is a sensitive story of a young boy's concern for a homeless youth whom he sees regularly in his neighbourhood. He and his mother and the local shop keepers give the young man food, a blanket and jacket, and colour chalks as he spends his days drawing. The boy worries about him especially on cold wet nights and when he becomes ill – and finally disappears from the street.
A gentle ending allows the story to finish on a positive note, though no fairy tale future is implied. In addition to the kindness of the locals, the mood is also kept buoyant with the recurring use of yellow throughout the drawings. Beautifully illustrated with lively imaginative detail, this is a compassionate story, written from the heart. $1 from each sale is donated to The Big Issue.
Recommended for ages 4-7 years.
I saw Pete and Pete saw me has been Notabled in the 2021 CBCA book of the Year Awards Picture Book category.
Reviewed by Elizabeth Douglas