Emily Snape, Shrinkle (Game On #1), Exisle Publishing, May 2023, 192 pp., RRP $16.99 (pbk), ISBN 9781922539397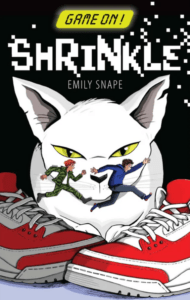 A bad day just keeps getting worse after Max's brother humiliates him in front of his class by playing a prank and stuffing Max's bag full of underwear. It escalates into a family fight that ends with Max and his brother having their computers confiscated, and their weird neighbour, Miss McBoob coming over to babysit them.
As if that wasn't enough, when Max's brother starts to play a game called Shrinkle on Miss McBoob's phone it somehow shrinks Max and Liam down to miniature size and leaves them to work their way through the game's challenges if they want to make it back to full size again. Max and Liam have to fight their way through enormous spiders, and oversize nappies, and whatever it is that lurks in the gross landscape under the bed. And Liam just can't be trusted to take it seriously and get them out of there, but will Max be able to solve the game without his brother's help?
Max and Liam's miniature adventure is a fun, well-imagined challenge that isn't for the weak of stomach. Max and Liam find themselves facing dirty nappies, and climbing through a stinky rubbish bin, and their baby sister's oversized drool, all of which is described in detail. Much of the tension for the reader is driven by the question of whether the brothers can actually put aside their bickering and preconceptions of each other for long enough to make it out.
Shrinkle is a fast-paced journey through Max's tough day and the game landscape, and uses an informal, impatient first person narrative that really lets the reader into Max's version of events. It was interesting to read between the lines of Max's narrative as the story went on, to get hints of how the other characters might have a different interpretation in spite of the fact that Max never really considers anything from any perspective other than his own.
We see Max's family relationships, and again the reader is left to read a lot between the lines of the tensions between Max and his brother and their very different personalities. The adventure into the game forces Max to rethink a few things, but the growth in their relationship is limited. Likewise, the tension between Max and his estranged father is touched on, but not resolved in any depth. The action and the adventure in Shrinkle wraps up, but the emotional arcs within the story still have a lot of room to grow, and the ending makes it clear that there is more to come in this series.
Visually, Shrinkle is accessible to young readers with well-spaced text, and breaks up the text with pages of quirky, cartoonish illustrations. This is one that will appeal to young readers, particularly boys, aged from 9 to 12 who like a good gaming challenge, and who have had those days when their siblings just drive them crazy.
Reviewed by Emily Clarke