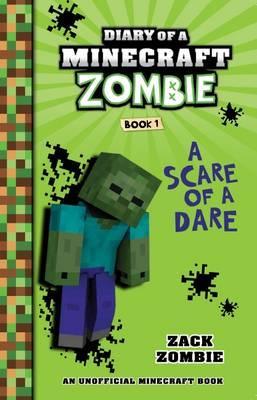 Zack Zombie (William and Gena Pena), A Scare of a Dare (Diary of a Minecraft Zombie #1), Scholastic Australia, 1 Nov 2016, 96pp., Special Price $5.00 (pbk),  ISBN: 9781743811504
This book is funny – laugh out loud in the middle of the train funny. I got one of two weird looks while reading this on the train to work, not to mention a double take when people actually registered the book in my hands.
William and Gena Pena have written the intelligent and funny diary of one Zack, a zombie who lives with his parents and his little brother, and his chicken. Zack goes to school – and often tries to get out of school, and is crushing on an unattainable girl – so all in all, he's your typical (zombie) boy.
I have to commend these authors on the effortless humour in their writing. From Zack and his friends' missing body parts, to being scared of humans and trying to get out of school, it's going to make any reader smile. The book is in the format of a diary, with handwriting instead of a formal font, and pictures included as if Zack has just stuck them in himself. It emphasises an intimacy with a decidedly unique character.
What's interesting here, is that Zack the zombie is friends with an outsider – a human, Steve. No one can really understand why, but Zack stays true to his friendship. The book clearly flips what it is to be an outsider, hopefully giving readers some food for thought. The end highlights their friendship, along with the excellent humour, and Zack even manages to get the girl from the bully who has been making a point of boasting and putting Zack down.
The plot is pretty simple, with the authors zeroing in on the important things that a kid might be going through – being an outsider and facing a bully.
That said, I feel part of this needs a Minecraft appendix to explain the characters and what they do. It by no means detracts from the story, but I think it would enhance it. Straddling the line for fans and non fans alike is not an easy task, but these authors accomplish it well.
Reviewed by Verushka Byrow