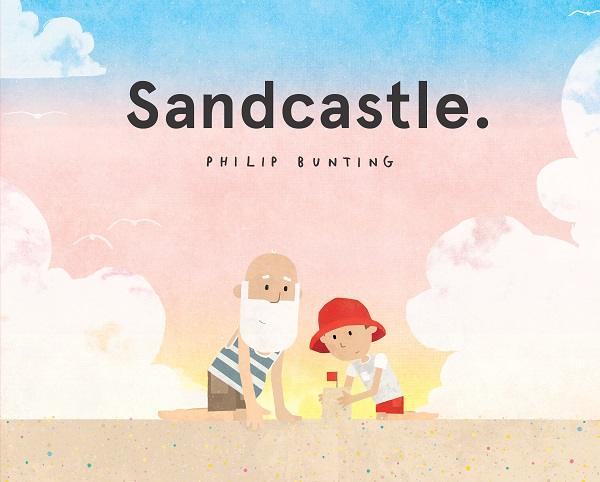 Philip Bunting, Sandcastle,  Allen & Unwin,  March 2018, 32pp.,  $24.99 (hbk),  ISBN: 9781760295387
From the moment you pick up this book by author/illustrator Philip Bunting, the feel of its textured cover and embossed text let you know you're in for a treat.
On one level, Sandcastle is a very simple story about Rae and Grandad building a sandcastle at the beach. Together, they build a very impressive structure. However, when the tide comes in the sandcastle is washed away. Rae is naturally disappointed, but Grandpa's wise guidance leads Rae to a couple of important life lessons. By independently building a new sandcastle just as magnificent as the first, Rae is developing patience and perseverance. On a deeper level, Rae also learns about the transitory nature of the world. This theme is delivered gently and quite beautifully in the story, but it's not until the end-page (after the story itself has ended) that the author delivers his piece de resistance:
You, me, this book…we're all made from tiny particles…We're only borrowing these particles from the enormous universe…[these]bits…will go on to lead many new existences on Earth, and beyond.
Flat, digital art with just a hint of Minecraft create appealing illustrations. The lack of scene changes could risk becoming repetitive, but this is not the case here thanks to two clever devices. The first is a cute little crab character who appears on most pages, and who young readers may enjoy looking for. The second is the varied use of zoomed-in and wide-angle views.
I don't know if it was deliberate, but Rae seemed to be almost a generic, genderless child, which works well to reach out to a diverse readership.
Whether readers remember this story as a simple one about building sandcastles, or one with a deeper meaning about the transitory ebb and flow of life, their reading experience will nonetheless be time well spent.
Teachers' Tips can be found on the Allen & Unwin website.
Reviewed by Julie Murphy