Caren Stelson,  Sachiko: a Nagasaki bomb survivor's story,  CarolRhoda Books/Walker Books Australia, 1 Nov 2016,  144pp.,  $27.99 (hbk),  ISBN:  9781467789035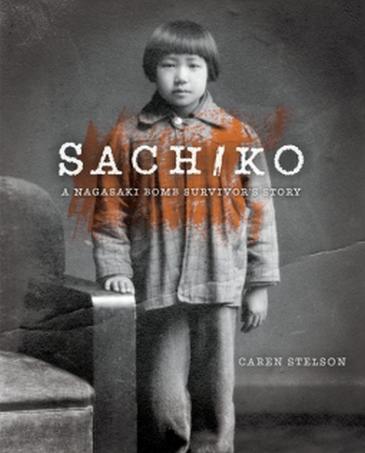 "When you grow up, remember to tell my story." – Sachiko Yasui
When Sachiko Yasui was 6 years old, the Americans dropped an atomic bomb in the heart of the Japanese city of Nagasaki.
Sachiko survived.
Years later, through extensive interviews conducted with Sachiko herself, author Caren Stelson tells the truly remarkable and heartbreaking story of a young girl who watched her hair fall out as the earth fell apart in the wake of a nuclear bomb that would haunt the world for decades to come.
This nonfiction story is told in many parts. One part, the story of Sachiko herself, is told as a narrative through her eyes, scattered through the book in chapters. Another is history- non-fiction pages of information that relate the facts behind the bomb and the consequences- the US President who ordered the drop, the science of radiation sickness, the conquest of Japan by the United States. Throughout are also countless images that chart the recovery of Sachiko, Nagasaki, and Japan; political cartoons, documents, signatures, quotes, and photos of cemeteries, hospitals, soldiers and children.
The book itself is gorgeous – a satin-like dust cover, shining pages and high-quality photos all rolled into one – serving to accentuate this heartbreaking take on a story that the world thought they already knew.  A must-read for anyone, of all ages, nationalities and races, cultural and religious backgrounds. For ages 9-10+, and all the way up.  This is a resonate, deeply heartfelt story that has finally been told and now must be spread as far and wide as possible.
Reviewed by Amy Cooper