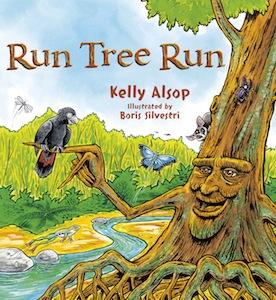 ALSOP, Kelly (text) Boris Silvestri (illus.) Run Tree Run JoJo Pub, 2014 unpaged $16.99 pbk ISBN 9780987607768 SCIS 1674033
The morning calm in the bush is disturbed by a strange frightening sound.  The old tree, home to many creatures, knows the sounds warn that a mine is coming which means 'humans come and cut down the forest, pollute the streams and dig up the earth until nothing is left but a big hole'.  The tree advises different animals how they can escape but stays to face the machines because in the past 'caring humans chained themselves to my mother tree and they saved the forest'.
The story is quite long for young children and would be more suited to 6-9 year olds.  The conservation message has been told before and this version does not introduce any new concepts.  The illustrations are colourful and well placed around the text but overall a book that is not recommended.
reviewed by Julie Long