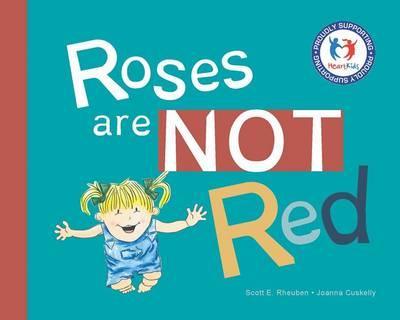 Scott E Rheuben (text),  Joanna Cuskelly (illus.),  Roses are not Red,  Little Steps,  1 Dec 2016,  32pp.,  $16.95 (pbk),  ISBN: 9781925545012
'They say roses are red and violets are blue… but not always!'
Written from the perspective of an adventurous child, Roses are not Red encourages children and adults to see the world in a different way. Not everything is the way 'they' say, with little surprises to be found in nature and in cities. And the final message of the book is a beautiful reminder that there is more to life than being the fastest and the best.
The text is short and sparse with the pictures telling a lot of the story. The cartoon illustrations themselves have a child-like naivety to them. Colourful and sparse, it's not always easy to understand what is happening in the pictures, but they are fun and eye-catching nonetheless.
This book would suit children around 2-5 years of age. It is worth mentioning also that one dollar from every book purchase goes to HeartKids NSW, so it is an extra special book.
Reviewed by Rebecca Blakeney