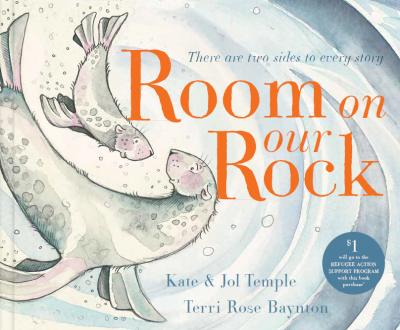 Kate and Jol Temple (text), Terri Rose Baynton (illus), Room on Our Rock. Scholastic Australia, Feb 2018, 32pp., $24.99 (hbk), ISBN: 9781742764108
Three seals are on their rock, not letting anyone else join them. They are emphatic that the rock is theirs only and chase two other seals, an adult and young seal, away. However, at the end of the book, the reader is instructed to read again, backwards, reversing the story physically, verbally and visually. The result is a complete reversal of attitude, with the three seals welcoming anyone to their rock.
The limited colour palette works well with the limited verbal text, and the position and artistic affects work well when being read either way. For example, the direction of the waves are against the two seals when they are turned away from the rock, but when read backwards and the two seals are accepted, the waves more towards the rock, welcoming.
This is such a clever collaboration of authors and illustrator, and fusion of visual and verbal to make not only the third text of the picture book, but two opposite versions of the story. The use of the reverse poem format is very clever indeed.
This book would be suitable to a range of ages and situations. All pubic libraries should stock it in multiples, and all school libraries should be sharing it with staff and students. It would make a wonderful read before the start of a staff meeting, or integrated within a unit of work on friends, bullying, acceptance, homelessness, or refugees. The possibilities are endless. Highly recommended.
Reviewed by Liz Derouet