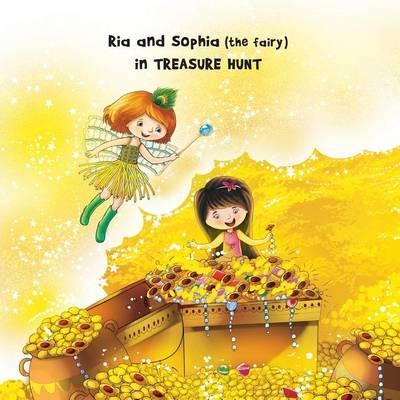 Ambica Ananthan (text)  Bookworks.inc (illus.) Ria and Sophia (the Fairy) in Treasure Hunt Lightening Source,  16 February 2015,  30pp.,  $24.50 (pbk),  ISBN 9780994250902
Digitally created images colourfully illustrate this book which tells a simple story about animal disguises. One day a fairy magically appears to Ria and her friends and invites them on a treasure hunt. Along the way they encounter things in nature that are not quite what they seem, before finding the treasure and being whisked back home to bed.
The book is colourful: each opening has a text page with black writing on lime green background opposite a full colour illustration page. With static pictures on each page, however, there is no anticipation of the 'reveal' of each camouflaged animal. It lacks the elements of surprise, interaction and engagement – a flap-style book would have worked better – but I can see it working well as an app as the interaction would involve a sense of problem solving and accomplishment.  I think the author has plans in this direction. For children 3-5 years.
reviewed by Debra Tidball