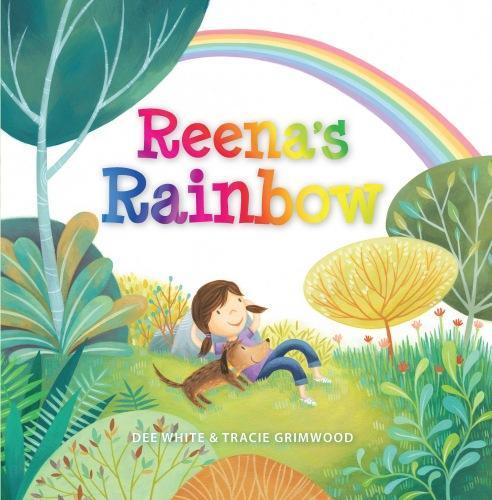 Dee White (text), Tracie Grimwood (illus.), Reena's Rainbow,  EK Books,  Sept 2017,  32pp.,  $19.99 (hbk),  ISBN 9781925335491
Reena is different from other children. She cannot hear – sounds are scrambled and make no sense. When she plays hide and seek in the park, her perfect eyes are very good at seeking but when she hides, she cannot hear the children calling her and is left behind. Reena is feeling lonely until she meets Brown Dog, who doesn't seem to belong either. Together they make a great team and Dog makes sure Reena is never left behind again.
This simple, touching story uses the rainbow as a symbol for belonging. All the separate colours come together to make one beautiful rainbow. Everyone, no matter how different, has their place in our world. The delightful illustrations perfectly match the story and convey Reena's emotions. I particularly like the clever way Tracie Grimwood uses symbols to depict what it might be like to be hearing impaired – what a difficult thing to draw! As well as bringing a strong message of acceptance, the story also celebrates individual strengths.
Teacher notes and book trailer can be found on the Exisle Publishing website.
Recommended for lower to mid primary readers.
Reviewed by Sharon Seymour